$16.95 USD
Motives眼線筆讓您能精確上妝,打造深邃立體的雙眸。其筆觸無比滑順,不致拉扯眼周的嬌嫩肌膚。這支眼線筆大膽、持久的色彩給您搶眼生動的雙眼。Create this Look:Apply Motives Eye Base all over the lid Use Motives for La La Mineral Blush in Vanity as transition shade & blend it out wellApply Motives Pressed Eye Shadow in Antique Gold onto the lidNow add a bit of the Glitter Base onto the Antique Gold Shadow & tap on Motives Glitter Pot in Pot of GoldDarken your outer V using Motives Pressed Eye Shadow in Vino, don't forget to blend 6. it in with the other shadowsDarken your waterline using Motives Khol Eyeliner in Onyx & apply Motives Pressed Eye Shadow in After Party along the lower lash lineApply Motives Gel Eyeliner in Little Black Dress along the top lash line, wing it outApply your false lashes & add Motives for La La Mineral Volumizing and Lengthening Mascara in Black
詳細資料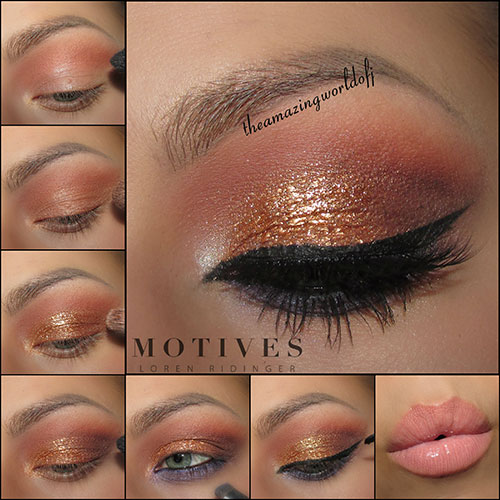 Motives眼線筆讓您能精確上妝,打造深邃立體的雙眸。其筆觸無比滑順,不致拉扯眼周的嬌嫩肌膚。這支眼線筆大膽、持久的色彩給您搶眼生動的雙眼。
Create this Look:
Apply Motives Eye Base all over the lid
Use Motives for La La Mineral Blush in Vanity as transition shade & blend it out well
Apply Motives Pressed Eye Shadow in Antique Gold onto the lid
Now add a bit of the Glitter Base onto the Antique Gold Shadow & tap on Motives Glitter Pot in Pot of Gold
Darken your outer V using Motives Pressed Eye Shadow in Vino, don't forget to blend 6. it in with the other shadows
Darken your waterline using Motives Khol Eyeliner in Onyx & apply Motives Pressed Eye Shadow in After Party along the lower lash line
Apply Motives Gel Eyeliner in Little Black Dress along the top lash line, wing it out
Apply your false lashes & add Motives for La La Mineral Volumizing and Lengthening Mascara in Black
益處
筆觸滑順細膩,易於上妝
添加油脂,可維持肌膚潤澤,呈現柔嫩光滑的美肌
妝效持久不脫妝
低過敏性
常見問答
Frequently Asked Questions about Motives Khol Eyeliner: How do I use Motives Khol Eyeliner? Gently pull your eyelid taut at an upward angle. Beginning at the inner corner, draw small, connected dashes along the top lashes. Be sure to stay close to the lash line so there is no skin visible between the lashes and the liner. How many shades does Motives Khol Eyeliner come in? Motives Khol Eyeliner comes in wide range of color from blue, green, purple, black, brown, gray, and white – a total of 10 shades. I have sensitive eyes. Will Motives Khol Eyeliner irritate my eyelids? Although we cannot guarantee a zero percent reaction to any product, Motives Khol Eyeliner is hypoallergenic, and is infused with oils that hydrate the skin to keep it smooth and soft. This should reduce the potential for irritation on sensitive skin. The unique crayon tip will not pull the delicate skin around your eyes during application, further protecting delicate skin. How long will Motives Khol Eyeliner last? Motives Khol Eyeliner has amazing staying power because it applies smoothly, thanks to waxes which give it a soft consistency. Smooth application leads to longer lasting liner as you transition the look from day to night. Is this product animal tested? No, this product has not been animal tested.
成分
Key Ingredients Found in Motives Khol Eyeliner:
Simmondsia chinensis (Jojoba) Seed Oil A natural ingredient derived from the seeds of the desert shrub, Simmondsia chinensis, that helps slow the natural loss of water from the skin and, therefore, helps to keep your skin moisturized, look smoother and firmer, and reduce the appearance of fine lines and wrinkles. Jojoba seed oil is non-greasy and easily absorbed by the skin.
Caprylic/Capric Triglyceride Caprylic triglyceride is oil that is made from coconut oil for use in cosmetic and personal care products. The oil helps reduce the loss of moisture in the skin by forming a protective barrier on the surface that holds in water.